Do you, or a loved one, suffer from depression or anxiety? Do you feel desperate to find solutions?
Depression has become an epidemic. Each year, millions more are being diagnosed and are suffering from its effects. This increase should raise a red flag to the fact that conventional treatments are not working. In this book, you will discover the real and surprising cause of depression, and learn why it is more prevalent today than ever before. I am writing this book with empathy and compassion because weaved throughout the book are the words of my son, Matty, who struggled with depression and extreme anxiety for many years. Understanding is essential for healing. Our diligent search for answers reveals compelling solutions and presents you, the reader, with the key to hope and healing. The content is refreshingly different and a must-read for anyone with a loved one who struggles to maintain their mental wellness.
Those suffering from depression will gain better health, both physical, and mental while building secure connections with loved ones. This book puts the reader in a position to help others understand, and thereby create an ever-growing circle of support. This connection is crucial as it will stop the downward spiral into a more profound depression, drug, or alcohol abuse. This downward spiral always produces a decline in physical health.
By reading this book, you will:
Understand why depression has become an epidemic
Realise you are not alone
Learn that there are practical solutions
Build secure connections
Change your perspective
Be empowered to choose a better path to healing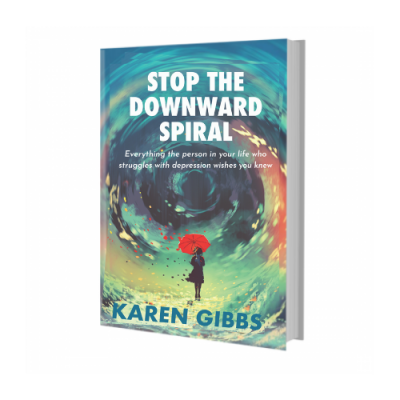 Email Karen – hello@karengibbs.com.au   for sales or details. This book holds the key to change and healing!
From my heart to yours, Karen
Comments
comments